S.A.S. Welcomes You
S.A.S. – Lamphier Observatory    
 N 39D 52′ 00.75″      W 89D 54′ 04.72″      
The Sangamon Astronomical Society is a registered not-for-profit organization dedicated to raising the public's awareness about the science of astronomy and to increasing
the interest of astronomical science to education in the Springfield area.  We aim our telescopes and intentions on developing friendships based upon a hobby that engages the mind and raises the appreciation of the universe around us.  S.A.S. origins date back to 1953 when six local amateur astronomers decided to formally organize and offer regularly scheduled public meetings.  The monthly Member Meetings are held on the 3rd Thursday of each month and begin at 7pm.  Emails are sent to all members prior to a monthly meeting announcing the meeting's location.  These monthly meetings have continued in various places throughout the years.  S.A.S. is available for public presentations to groups of all sizes.  Sharing astronomy is not only part of the hobby, it's our mission.  For further information of our organization contact us at our email sas_sky@hotmail.com.   Applicants for membership  Click Here to print a membership form.
The S.A.S. is a member of the Astronomical League, a national association of member societies that all have the same mission – to promote the science of astronomy in the community.  The Astronomical League is made up of over 200 member amateur organizations from the United States and individual members-at-large from around the world.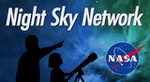 Sangamon Astronomical Society is also proud to be a member of the Night Sky Network, an educational outreach program sponsored by NASA, Jet Propulsion Laboratories and the Astronomical Society of the Pacific.  The purpose of this program and one of the functions of our organization as well, is to make public observing nights available for the public and area school programs introducing the night sky and astronomy to those interested.