In Memoriam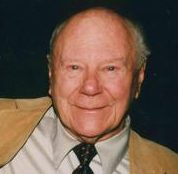 DONALD C. JARDINE, SAS Founder 
(1922-2016)    
The founder of the Sangamon Astronomical Society, Donald C. Jardine, passed away on Tuesday, May 17, 2016 at his home in Pleasant Plains, Illinois. Don Jardine founded the Springfield, Illinois-based Sangamon Astronomical Society in 1953, though its actual origins date back to the late 1940s when Don moved to Springfield.
Don was born in Youngstown, Ohio on September 16, 1922. He spent his formative years in Youngstown, learning about astronomy from the local public library. In a day where telescope making was a popular means of "getting down to business" and observing the nighttime sky, Don was fortunate to learn telescope making from the revered Theodatus Beede, a leading telescope maker and hobbyist in the Youngstown area.
From this same part of Ohio, in the 1930s, other noted figures from amateur astronomy emerged such as Walter H. Haas founder of the Association of Lunar and Planetary Observers. Don had received a scholarship to study astronomy at Princeton University, however, World War II disrupted such plans. Don served honorably as a naval airman during this period earning the Navy Air Medal for heroic actions or meritorious service while participating in aerial flight.
Family demands and other opportunities after World War II motivated Don to pursue a career as a talented architect where he later contributed his services to the State of Illinois and as an architectural inspector working for the state's Public Health Agency from which he retired in 1990.
Don had a great capacity for intellectual pursuits, most of all amateur astronomy. The Sangamon Astronomical Society, since its earliest years, attracted many persons with various talents – from the building trades, to professional technical people, and others knowledgeable in a variety of backgrounds. They fed off of each other's areas of expertise, inside and outside of amateur astronomy. Don built and rebuilt his observatory several times as he moved around Sangamon County, using his skills as accomplished architect and builder. His door was always open for amateurs wanting to learn from his experiences or to participate in observing sessions from his vast arsenal of observing equipment.
In 2004, Don won the coveted North Central Region Astronomical League Award for his accomplishments as organizer, observer, and mentor in the amateur astronomy community in central Illinois. It was a much-deserved honor owing to Don's kind and fostering nature to other amateurs.
Don is survived by his devoted wife Virginia; a son and daughter-in-law, Gary & Beverly Johnson; three daughters, Judith Liehr, Marilyn Hobson, and Sarah Short; eight grandchildren, and fourteen great-grandchildren; a brother, Calvin Jardine; and a half-brother, James Freckleton.
Don Jardine was a friend and an inspiration to us all and he will be deeply missed. (Provided by Matthew Will.)
Link to Don Jardine Interview